In the deep midwinter, the day length is short and often the weather a bit harsh. In fact, this winter has been mild and dryish until the recent snowfall and so we have managed to garden more often than we usually can in January. 
It still leaves us with long evenings to find an indoor occupation and despite the fascination of the present political situation here in Britain, there is still lots of time for other indoor activities.
This week I shared in the buying of a crate of Seville oranges. You can only buy them in January and the box was oddly 18.5 kilos! In the days of running a B&B we used to two crates into marmalade, but this year we decided half a box would be sufficient.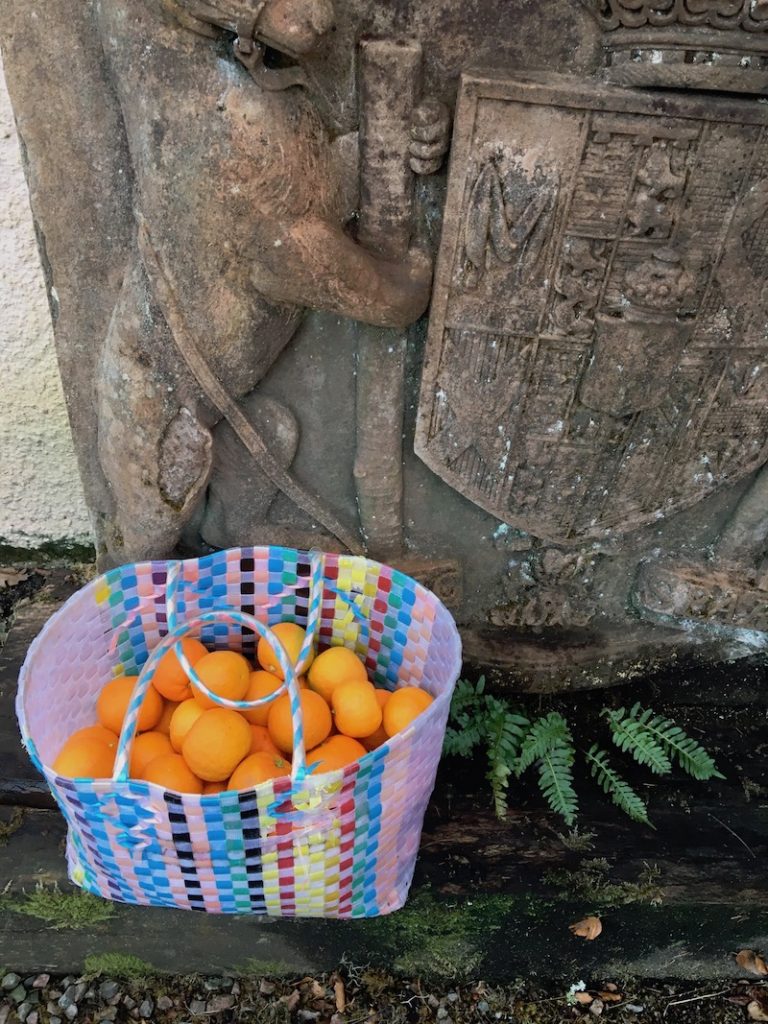 So far I have made one batch of marmalade, "Dark and Dangerous", a recipe using only Muscovado sugar. These jars will go into the welcome pack we give our guests on their arrival, along with the best oatcakes we know and a miniature bottle of whisky from the local distillers.
I have been making marmalade for years and when Norrie and I combined forces to create Ard Daraich Self Catering we used our enjoyment of making preserves as a way of putting ourselves on the map. A high point for us was when a local artisan used his German connections to sell our preserves in Berlin. We often attended farmers markets and local agricultural shows and developed quite a following. I have even parcelled up jars of marmalade and sent them to a city trader in London.
As we selected the recipes we obviously based all our research on the Constance Spry Book that we both grew up with, The Constance Spry Cookery Book by Constance Spry and Rosemary Hume.
I have adapted the recipe for marmalade by reducing the amount of sugar and often include preserved Chinese stem ginger.
Anna's Marmalade Recipe
Steam Oranges in Sarah's Magic Juice Extractor. This wondrous gadget conserves the liquid in a separate container from where you can siphon it off.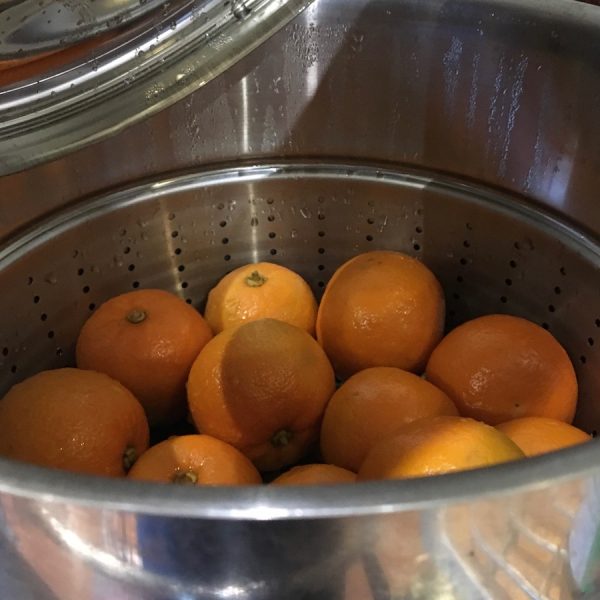 When the oranges are SO SOFT that you can prick them with a skewer and the rind offers no resistance, take them out one by one and cut in half around their equator.
Use a small spoon and, with your spectacles on 🤓, pick out the pips (including any flesh that is stuck to them) and put them in a separate bowl. Don't worry as the orange halves will still have lots of flesh and pith inside.
Scoop this flesh out into a second bowl. Cut the rind into strips and mix with the flesh. Continue until all the oranges have been de-pipped.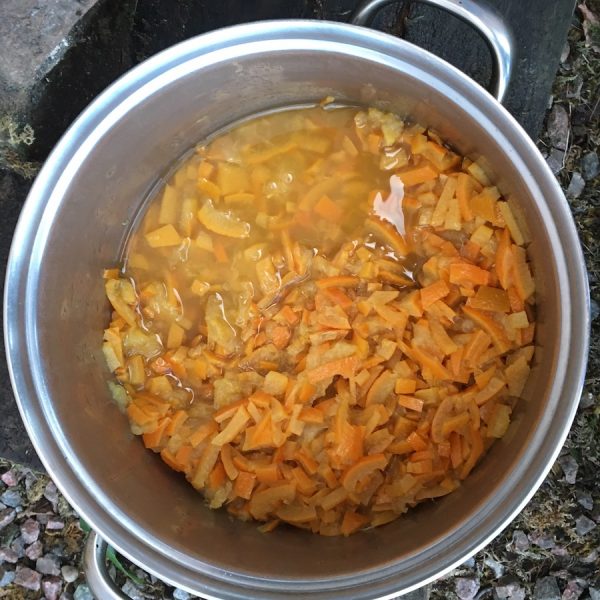 Put the pips in a pan with water from the steaming and simmer until you need the liquid. Place in a sieve and rub with a wooden spoon until the flesh passes through.
Add to your rind and pulp mixture.
Place rind into food processor and whiz until the rind is the desired size. Don't overload the machine; it works best with small amounts – about 4 spoonfuls. You can do this by hand, chopping until you get the desired texture, but I find it sets better if you use a machine.
Weigh pulp and rind and for every pound measure 14fl oz of liquor. Mix together and if you run out of liquor dilute with water. Mix all together and stir to stop lumps of peel clinging together.
For every pound of pulp and liquid measure 1lb of sugar, Muscovado for dark Oxford Marmalade, or white granulated sugar for a lighter colour. I often do a mixture of both.
An ordinary domestic-sized saucepan is large enough to boil 3lbs of pulp and 3lbs of sugar with room in the pan. Boiling sugar is very hot, the marmalade needs to boil hard enough to spit, and flying blobs of molten sugar make for hard cleaning and sore arms!
Boil the mixture for about 10 – 15 minutes, depending on hob heat.
Mine makes a good set if it's boiled once for 7 minutes and then for another 5 minutes to harden set.
Place a small sample on a saucer and put in fridge to test the set. Leave to cool and test.
When satisfied with the result, pour your marmalade into clean warm jars and top with boiled lids.
I am now trying to reduce the sugar content and am reducing by 4 oz each time. So, for 1lb pulp try 12oz sugar and boil hard. The boiling will take longer, say 20 minutes – two boils of 10 minutes each to check the setting.
I have now tried 8oz sugar to 1 lb pulp but am not sure this will have the preservation properties of a higher sugar content. It may be inaccurate to describe it as Marmalade as I know there is a technical definition of Marmalade, which is to do with the fruit sugar ratio.