As a previous owner of this house was famous enough to have a rose named after her, it was inevitable that we would try and grow not only Rosa Constance Spry but also a number of others. Maybe we assumed it wouldn't work but with the enthusiasm of our dear friend Linda Coggin, who has a gardening business near Salisbury with the sexy name Plants of Desire, she easily convinced us it was worth the effort.
Roses don't take naturally to our climate and our poor soil is especially unsuitable; acid and with low fertility. More work than usual goes into coaxing the flowers which so often turn brown in the rain. They are hungry feeders and need a lot of additional food in the form of compost, organic fertiliser and, in our case, most especially seaweed, something I am sure is not part of their normal diet, heavy with salt and carrying the windswept smell of the sea in their cells.
This year, however has been an exception and as the few we put in at the same time as Constance, three years ago, are achieving some maturity it is with delight that I am able to walk around outside with their heady scents wafting in the breeze. My favourite is Rosa Alchemist. We grow this on my studio and every time I empty the compost or go to hang the endless washing, I walk past and am fascinated by the subtle colour.
As a child I knew a rose tied to the wall of a pretty cottage and was told it was Gloire de Dijon. I'm told the rootstock of that rose is exhausted and so years ago when I tried to replicate the look, I was advised to try Alchemist instead. Despite being a vigorous grower and probably too big for the situation here, it does now look magnificent.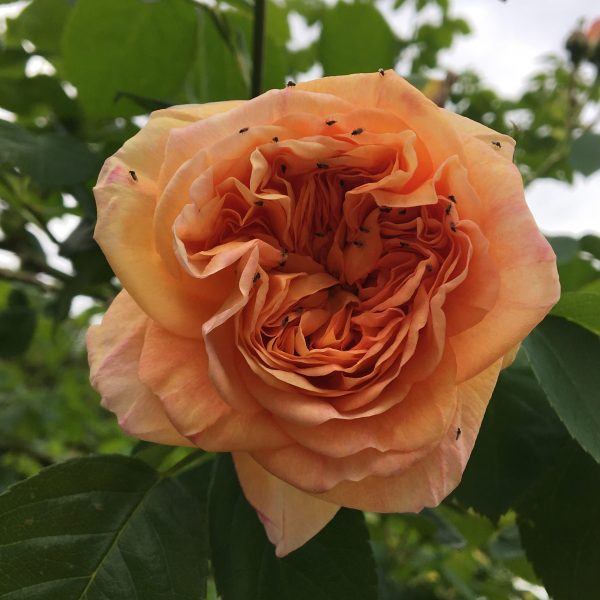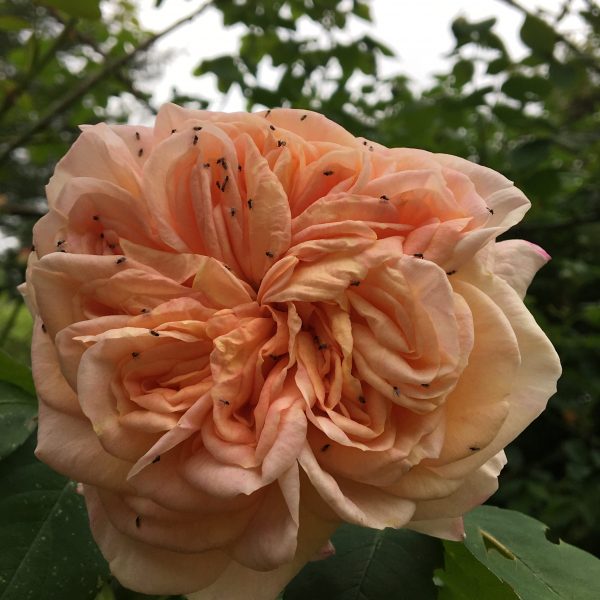 Rosa rugosa and its many varieties are more robust and thrive with little care.
In 2008 we converted the original garage for Ard Daraich into a holiday let, The Garden Studio. During Norries parents day it was their potting shed and store and later the attic became my studio replacing the Red Cross commodes and disability aids my mother in law stored for her voluntary work, with my easel and plan chest.
On completion of the Garden Studio we felt it needed a simple garden and in the space where the cars pulled up, we replaced the concrete with stone paving and a hedge. The hedge was of Rosa rugosa in mixed pink and white, dug up from a nearby thicket in the gardens of Ardtornish. With a little food in the early days and top dressing of shedded bark to keep the weeds down, it is now a billowing beauty of tissue flowers that gives our guests complete privacy and something of interest four times a year.
Rosa rugosa is a versatile plant. In the spring the leaves come out a fresh apple green. These are swiftly followed by the crinkled tissue of lovely flowers. Later the flowers turn to big round juicy hips and finally the leaves turn a mellow cadmium yellow. How many other plants offer so much interest in one gardening season?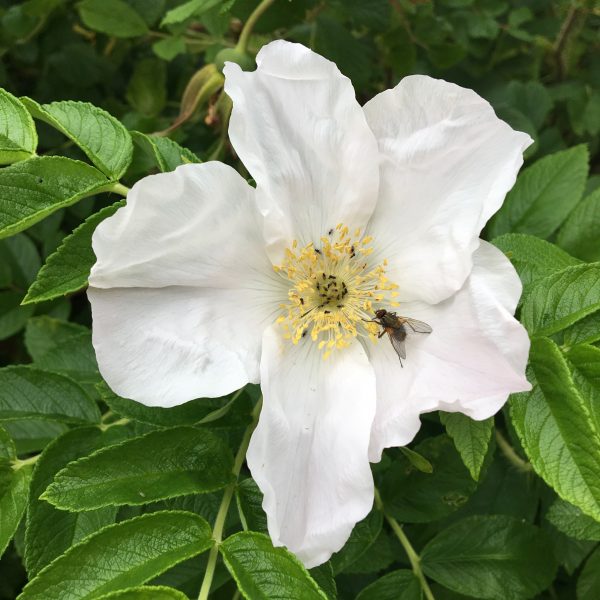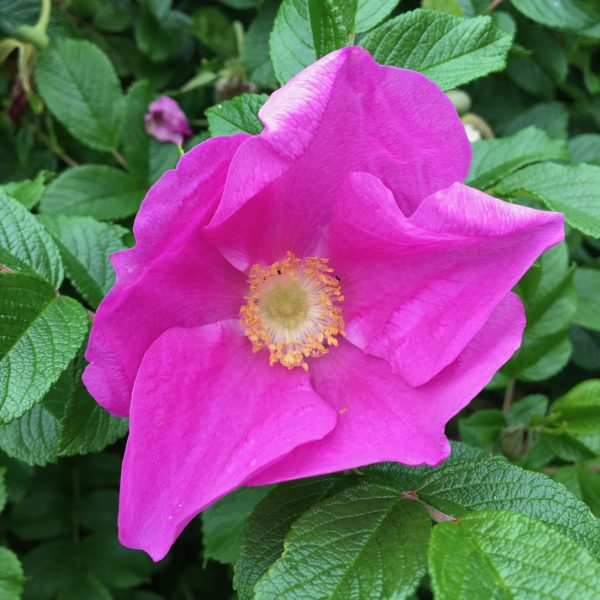 Another rose I was given as an offshoot and then planted outside my studio is Blanc double de Coubert. It has been looking magnificent.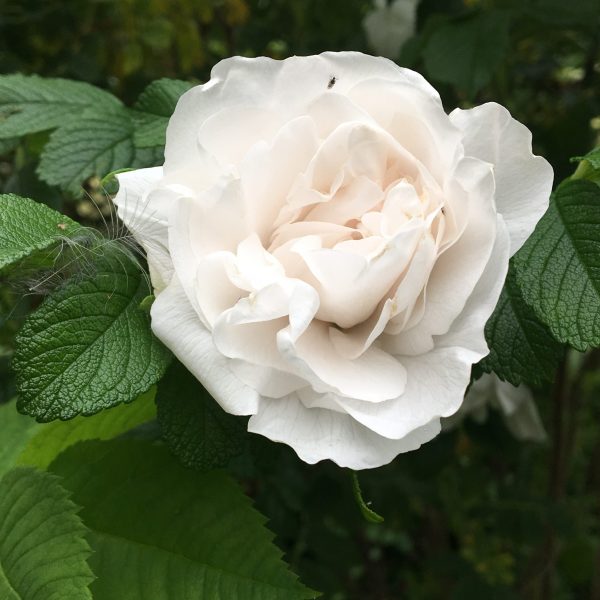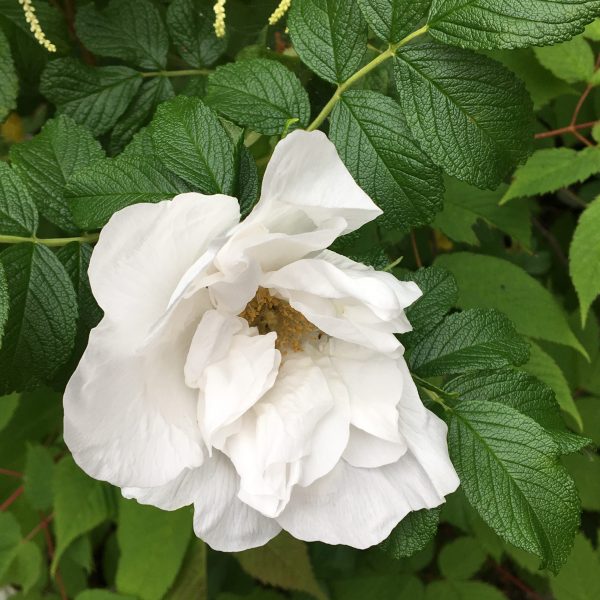 We also grow a climbing rose (name forgotten) trained over a tripod of cut rhododendron stems and intermingled with honeysuckle.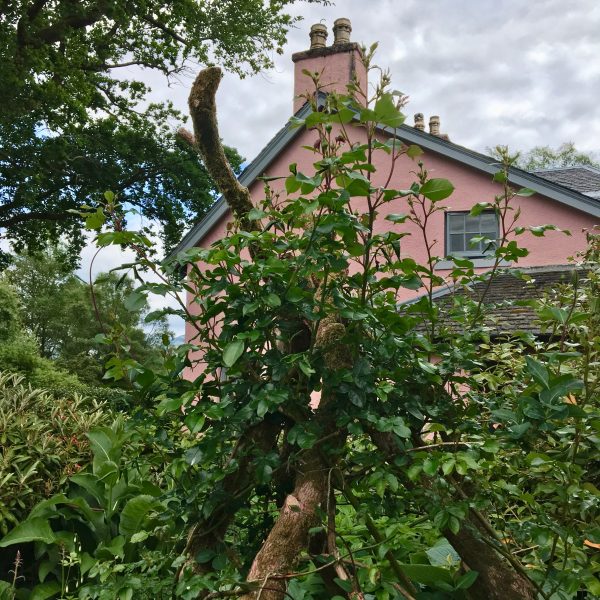 And glorious explosions of Rosa moysii.